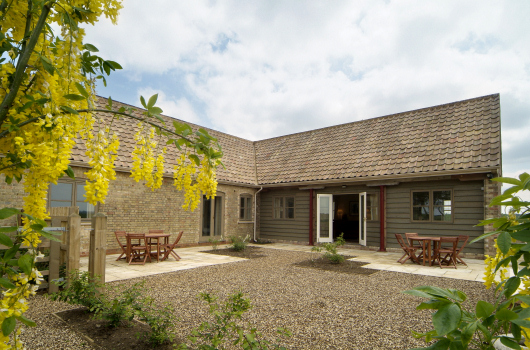 07951 055116


01832 275665


send email
Three luxury self-catering holiday cottages - christened Alice, Graham and Len - created from traditional farm buildings.
The perfect choice for a family self-catering cottage holiday in East Anglia.
Centrally located between Peterborough, Northampton and Cambridge, just four miles from Oundle.
Enjoy England 5 Stars Self Catering.
Enjoy England Gold Award for exceptional quality and comfort.
Mailing List
Would you like to join our free Northants holiday cottages mailing list?
Prices and Availability

Further details about each week, including short break prices and which days within that week are available for booking, can be accessed by clicking on the price. All prices are in Pounds GB inclusive of VAT.
The prices shown below are for weekly lets commencing on the dates shown. If a week is part booked already, the price shown will be for either a three-night weekend or a three-night midweek short break during the part week remaining.
Please check our news section for details of any current offers, cancellations or late availability.
Our principal booking conditions are shown in our information section. Our full booking conditions will be provided during the booking process.
All bookings are subject to final confirmation.

| | | | | | | | |
| --- | --- | --- | --- | --- | --- | --- | --- |
| | = booked | | = weekly price | | = weekend price | | = midweek price |

week commencing

Graham
Len
Alice

sleeps

4

4

2

Fri 6 Dec 2013

booked

booked

booked

Fri 13 Dec 2013

booked

booked

booked

Fri 20 Dec 2013

booked

booked

Fri 27 Dec 2013

Fri 3 Jan 2014

Fri 10 Jan 2014

Fri 17 Jan 2014

Fri 24 Jan 2014

Fri 31 Jan 2014

Fri 7 Feb 2014

Fri 14 Feb 2014

Fri 21 Feb 2014

Fri 28 Feb 2014

Fri 7 Mar 2014

Fri 14 Mar 2014

Fri 21 Mar 2014

booked

Fri 28 Mar 2014

Fri 4 Apr 2014

Fri 11 Apr 2014

Fri 18 Apr 2014

Fri 25 Apr 2014

booked

Fri 2 May 2014

Fri 9 May 2014

Fri 16 May 2014

booked

Fri 23 May 2014

Fri 30 May 2014

Fri 6 Jun 2014

Fri 13 Jun 2014

Fri 20 Jun 2014

booked

Fri 27 Jun 2014

Fri 4 Jul 2014

Fri 11 Jul 2014

Fri 18 Jul 2014

Fri 25 Jul 2014

Fri 1 Aug 2014

booked

Fri 8 Aug 2014

Fri 15 Aug 2014

Fri 22 Aug 2014

Fri 29 Aug 2014

Fri 5 Sep 2014

Fri 12 Sep 2014

Fri 19 Sep 2014

Fri 26 Sep 2014

Fri 3 Oct 2014

Fri 10 Oct 2014

Fri 17 Oct 2014

Fri 24 Oct 2014

Fri 31 Oct 2014

Fri 7 Nov 2014

Fri 14 Nov 2014

Fri 21 Nov 2014

Fri 28 Nov 2014

Fri 5 Dec 2014

Fri 12 Dec 2014

Fri 19 Dec 2014

Sun 28 Dec 2014

Sun 4 Jan 2015

call

call

call

Fri 9 Jan 2015