Northamptonshire Holiday Cottages News

Heather's Retirement
September 2011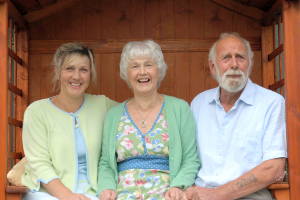 Heather Ball retired today from Nene Valley Cottages.
It's hard to believe but work on Nene Valley Cottages began in 2004, when Graham Ball, barely mobile after a nasty accident, began reclaiming the walls that were beyond repair, brick by brick. For the next two years, Heather brought Graham his lunch every day and watched as almost singlehandedly, Nene Valley Cottages was crafted from some lovely but neglected old buildings.
Heather loved visiting and appreciated the solitude and the beauty of the setting through each of the seasons and, when the Cottages were finally nearing completion, agreed to run Nene Valley Cottages as a business. The warmth of Heather's welcome, her enthusiasm talking about the cottages on the phone, her attention to detail and sheer delight at seeing people enjoy their holidays in this less than fashionable corner of Northants have shone through. The consistent feedback we have had from our visitors is that Heather is a great asset to Nene Valley Cottages.
Sadly, Heather has decided to retire but we are very lucky that her daughter Gee has agreed to take over. All of Heather's family have been dragged in to help at different times and Gee has been covering Heather's holidays for a while now. So she knows the place from the day the first digger arrived, knows many of you and is set to carry on the business seamlessly. Her contact details will be on the website from tonight. Graham will continue to be in charge of any maintenance issues.
Heather has become friends with many of you and I am sure you will have the chance to see her when you visit as I really don't think we will keep her away from checking that Gee is doing it right. For those who want to remain in touch with her directly, her email address is ball771 at btinternet dot com.
To mark Heather's retirement and thank her for her contribution, we have bought her an arbour for the garden that she and Graham have been remodelling. The business could not have been a success without you, the paying guests, many of whom have returned again and again. So the way I think of it is that this is a present from all of you to Heather and, on Heather's behalf, can I thank you all.
Gee is in the photo and hopefully you will all have a chance to meet her in the near future.
With very best wishes,
David Burnett